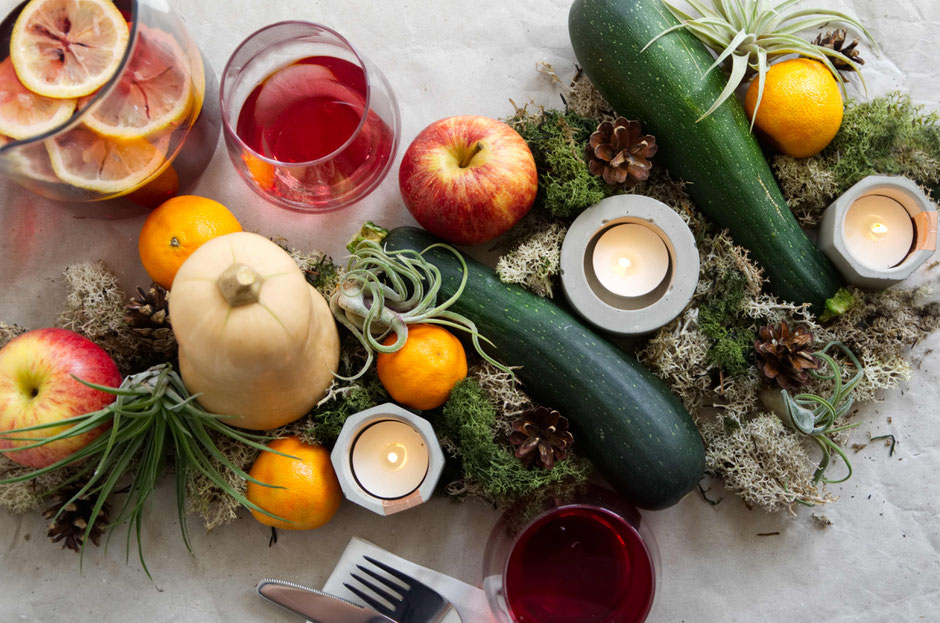 A proper Autumn tablescape featuring modern elegance and organic earthly produce. I know Halloween is coming up and I promised you I got you covered, so here is my rustic down to earth, natural 'grown up' way of an Autumn centrepiece and if you fancy it a 'BOo' or a face can easily be added to the pumpkin!
I don't know but with me being German and all, I grew up without these ghostly festivities, maybe I never really got it, but having said that, I surely enjoy a good table, nice company and  great food. So let's create my table as base and spookiness will come with nightfall ....
Some notes on how to get started...
I started by placing the largest items first, second came all the candles for atmosphere. I think it is good to mix different styles of candle holders so feel free to mix. However, I decided against dinner candles as I wanted the pumpkin to be the eye-catcher. Mixed Reindeer moss flakes followed as well as small pine cones and different types of Air Plants. 
Well, that's basically it but no one is stoping you from adding some spiders or worms into the mix! 
Happy Halloween and a golden fall!
Antje
---