Last minute Happy Easter decor ideas with items you purchased the most recently - for yourself or to give as gifts! Thank you!
My favourite is the geometric bowl too! On the left I just added some dark green and pale Reindeer Moss to nest the 'boiled' egg. I am a fan of scrambled eggs and the egg shells make a wonderful Air Plants holder for this Capitata Peach. We are just two this year but if I had to build it up for a family table setting I would add more moss and eucalyptus, place in-between more Air Plants in egg shells. And of course some candles as shown below. 
The trend of concrete and metal - I am still more into copper for its warm and inviting feeling and of course my brown eggs. But for all silver and white egg fans have a look at my concrete vessels with silver attachment and don't forget custom finishes are always welcome! 
The grouping features the copper cups with a Multiflora Air Plant and I filled the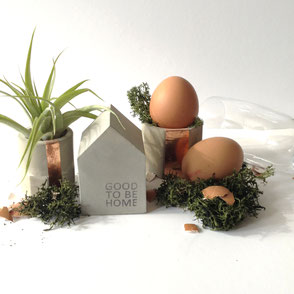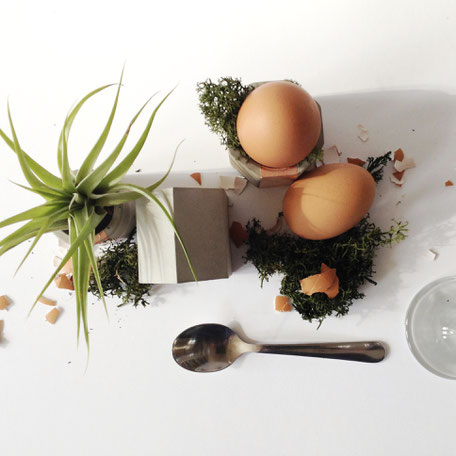 hexagon cup with Reindeer Moss to use it as egg cups. A bit of moss as well as egg shell bits around the feel good concrete house sculpture and maybe an egg or two placed in-between create a lovely happy functional centre piece, don't you think?!
Look what I found! On the left is the cutest idea I found for a fun Easter feast. Perfect for all of you who don't want to change their plant display but got moss left over. Mark your shapes with a pencil, add some glue and the moss. Well, of course you can freestyle it! 
And for all who love it simple and clean, who don't like the mess all over the table, plants and moss can create the less is more look above. Love the simplistic flow and the hygge warm feeling of the candle as well as copper. Well, as I started to write this post I was sure I would go with the first option this Easter but now I think the last one is going to be the one for us. Simple, cosy as they say it will rain, fast and cute - yep!
---