First up, I decided to keep the geometric concrete Air Plant Rocks [images above and right] on the introduction price for now - you just started to get to know these cuties and I just enjoy personalising the boxes and crafting them.
So instead of £ 22.50 they will be available for £19.50 and it is perfect if you wish to ship it directly to the recipient.
Choose and customise yours here!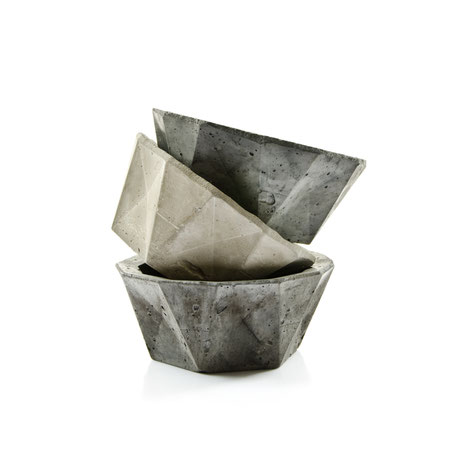 Third & Forth up are two candle or Air Plant holder designs! It is really up to you how you prefer to use them but your feedback has shown that these two designs are your favourites! I would never doubt you and can only join it with styling ideas over on my blog. 
The bold cylinder tea light candle holder - you can see below, you inspired the use of it as a ring holder with a bit of moss and I stacked them and this year, I decided to use them as egg cups this Easter. Psst, I've got a little hint for you - I am working on a monochrome marble version which can already be ordered exclusively here and for the saver price too! Photos follow soon!!!
So for now instead of £11.50 it is now £10 and all the details are over here!
Last but not least the first geometric concrete tea light candle holder [images on the left] I ever finished with the new [at the time] reinforced concrete. This one has the additional wide real copper attachment to add a bit of warm and inviting bling. 
This one is not just on offer on its own but also in combination with an Air Plant.
 Now from £7.90 instead of £9.90!
With love from me to you and a joyful day, Antje
---