Just a few weeks to go until Easter and if you are a little like me you want to surprise! I am so happy to say that I finished some new designs for us to share and feel inspired by. I was thinking of people for whom it is hard to shop for, for people you want to give something unique, yet not too big, the plant lover or modern design fan. Well, you will be the judge!
First off - my new gift box filled with a unique concrete rock which carries a living Air Plant. I have finished three designs and the box can be personalised inside just as shown below and made fit for your gifting occasion on the outside. There is also a special introduction price of £19.50 instead of £22.50 at the moment and a gift message can of course be added as well ...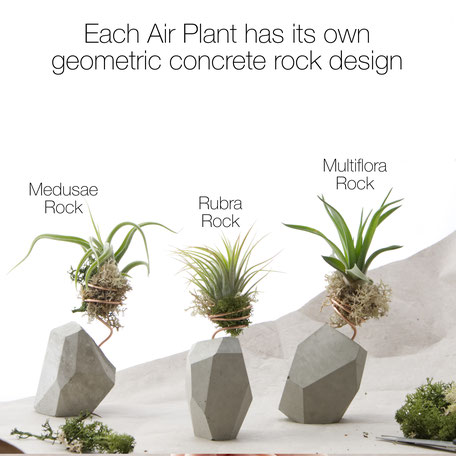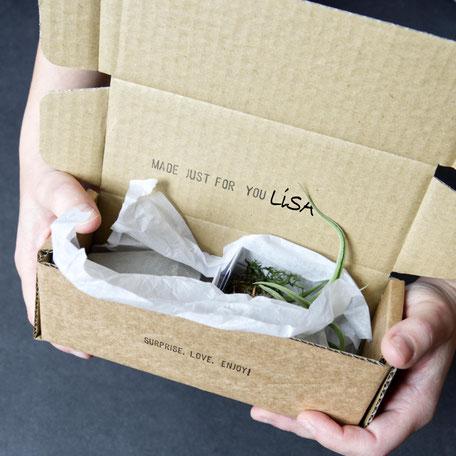 The second one is a design I felt deep in my soul. I don't know about you but over here, living as German in London, these times are somehow challenging not to say overwhelming. I felt the urge to breathe, to clean and sort. I even wrote a little post about spring cleaning with minimalism in mind and a hint of slow living. Palo Santo wood also known as holy wood is for cleansing and relaxing as well as an invitation for positivity. It smells delicious but I felt let down by the offers on burners. I mostly found bowls or plates and couldn't help myself but design one which suits my style and minimal aesthetics. Yes, indeed palo wood does not just go with boho chic it is for minimalists to! Here we go, may I introduce to you my 'concrete palo wood burner' - cheers!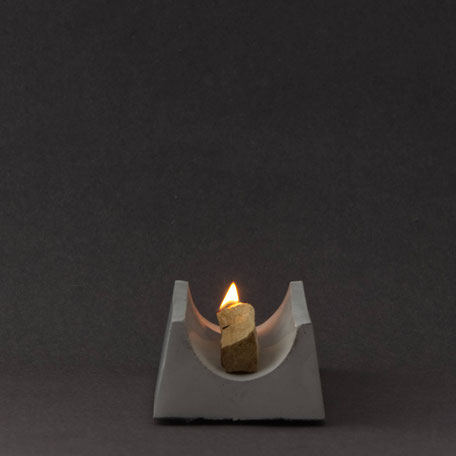 And last but not least a classic of my designs renewed by your feedback and now available as a new paperweight size to complete sculpture and bookend sets available. I decided to go for three options for the paperweight house and it can always be ordered in a saver set of three with the mini house set of 2. I went for the classic options of pale grey and dark grey and added the abstract option shown below. Of course you can always request your bespoke finish as well, marble effects, different shades or maybe added copper or silver stripe just let me know, I love doing this for you!
Click the image to visit the listings or click here to see all concrete houses!
Yes, indeed these are the Spring / Summer newbies and I hope you will love them as much I do! Even more inspiration is of course in my 'Gifts' section and all the others above! Enjoy your browse and for special requests feel invited to get in touch, Antje
---