Exciting news my first brand new designs for 2019 entered my shop! And what can I say it is not just one but two heavily geometric designs to grow our much loved modular concrete display and photo prop options - fabulous!  
First an absolute new style for me as a designer is the 'Mountain' concrete tile. I decided to call it that because in many abstract ways it looks a lot like that. The different tops of this geometric abstract offer various ways of displaying rings, bracelets and much more. I finish them very smooth to an almost gloss finish which enhances the depths and ever so little reflects the light. But don't let me go on have a look for your self, images below, left and of course all the details are here!
And the second design is a bit of something new meets something known - the much loved mini concrete diamonds meet the new more facetted larger diamond and create a new group of six sculpture diamond solids!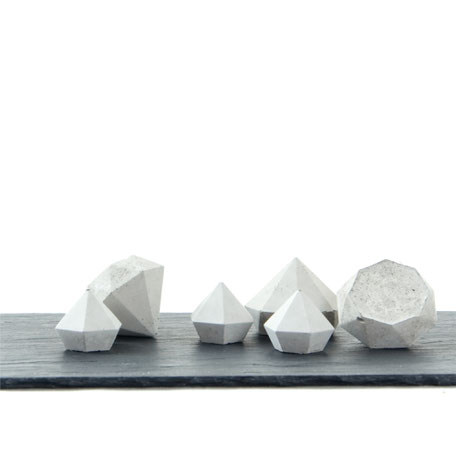 Well, I know ideas of displaying with these beauties are just flying but if you'd like even more inspiration have a look at my 'Photo Styling With Concrete' blog section or of course my shop section 'Concrete - Prop Sets'. Enjoy!
Can't wait to see what styling options you come up with #pasinga or comment below!
Antje 
---