Is there anything more exciting than wrapping a gift in anticipation of happy smiles and bright eyes, warm hugs and wonderful memories? Nothing right?! 
This year is especially exciting to me as my new concrete ornament series is available and new gift wrapping designs can be created but also because of the ever growing Furoshiki trend [where you use reusable fabric to wrap your amazing gifts]. So I decided all the presents for the adults will be gift wrapped in linen scarfs and kitchen towels - haha guess who gets which?! Right, men have to help with the dishes!
However, for my nieces and nephews I will stick to recycled paper so that they can rip it apart and enjoy that moment to the fullest. 
I am not sure about you but once I had that sorted I felt drawn to a bit of foliage this year. Last year I was more minimalist with just tags and cards but this year a bit of warmth is required and I think a bit of fir and other evergreens could just do the trick. Instead of having cards this year I will just write the names on the present or concrete gift tag, got my gold and silver paint pens ready already! Let's see - above and below are some ideas I came up with during my photoshoot but there are also some additional ones I feel heavily inspired by.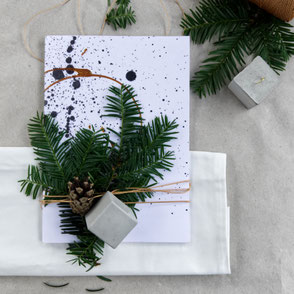 Some things don't need extra wrapping, they are just too pretty and so I decided some nice twine, evergreen, a pine cone and a geometric concrete pendant is just about right to let it shine even more and give it that personal touch.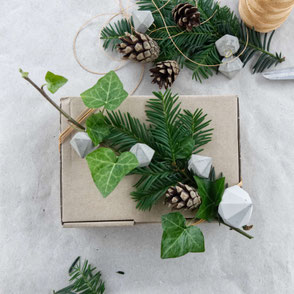 Diamonds are always a good idea or so they say, do I need to say more?!?
And to the right - a minimal almost masculine way to wrap a present - recycled grey paper, dark baker twine and hexagon ornaments.
Up-cycling a bit of newspaper or magazines can add such a wonderful warm twist, cherry on top, or so it feels, is this wonderful ripped fabric ribbon. More ideas are on my Pinterest wrapping board and more details and a picture guide to Furoshiki for beginners is on my blog but doesn't this just look stunning, even though it is just an ever so simple knot. Oh I am getting excited - I think my wrapping is sorted, not all the gifts though even though all the designer makers of my little Christmas gift guide series over here have been very helpful - have a click for inspiration! 
What do you think? Are you in love with these warm natural tones for this Christmas too or are you up for a different excitement? Looking forward to your social snaps over on Instagram and co but you know your comments rule too!
Best,
Antje 
Please note - not all images in this post are my own, therefore please click the image to be directed to the source. Often you will find even more inspiration. Thank you!
---