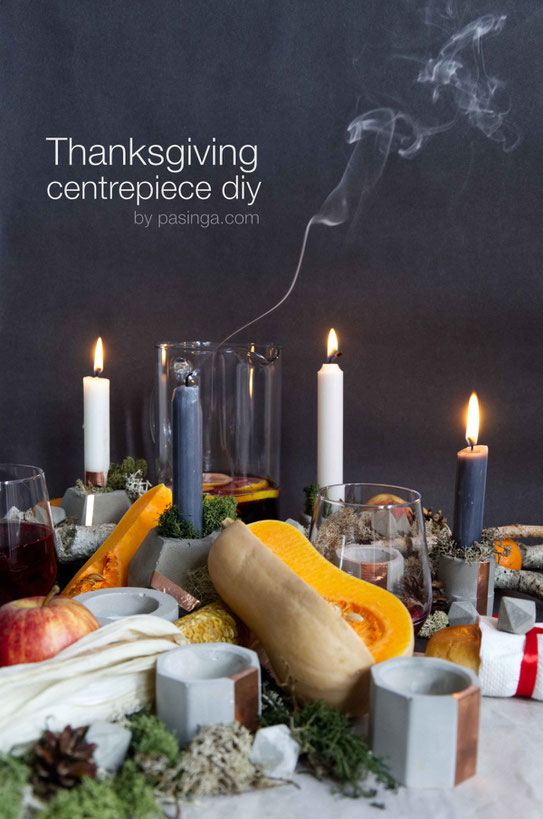 Warm colours, heavy fresh air in the morning and wonderful warm candle light evenings - November. I tried to exactly incorporate all those feelings in my Thanksgiving table scape. Even though we don't celebrate Thanksgiving in Europe, we do pumpkin feast and 'Herbstfest' I still have loads to be grateful for and like that about Thanksgiving. By far the most for every single design and creation I was allowed to craft and ship around the globe to wonderful customers and clients, indeed an amazing summer has gone bye. 
Let me try to say thank you with sharing some decorative ideas on how to make an autumn celebration a beautiful one.
---
The base materials used....
Table cloth or paper, a mix of candle holders, Reindeer moss mix, pine cones, fresh fruit and veggies, some twigs, glasses and cutlery, you might need a knife, scissors and a lighter for set up
It is really up to you which fresh fruits and veggies you display but I considered three things. First, what will be added to the meal served, what is the season asking for and third, do the colours create a nice harmony. I cut the pumpkin as the smell is just delightful and a natural scent to the table which will enhance and not deviate from the mood. As for the sweetcorn, I dried it for a couple of weeks as I wanted the colours to feature a stronger contrast but I am sure a fresh one will do just fine.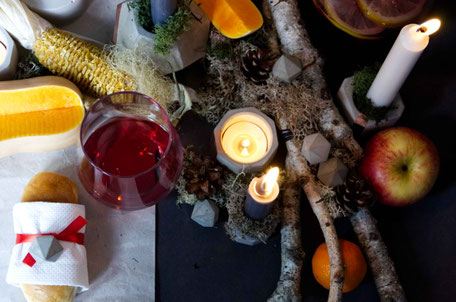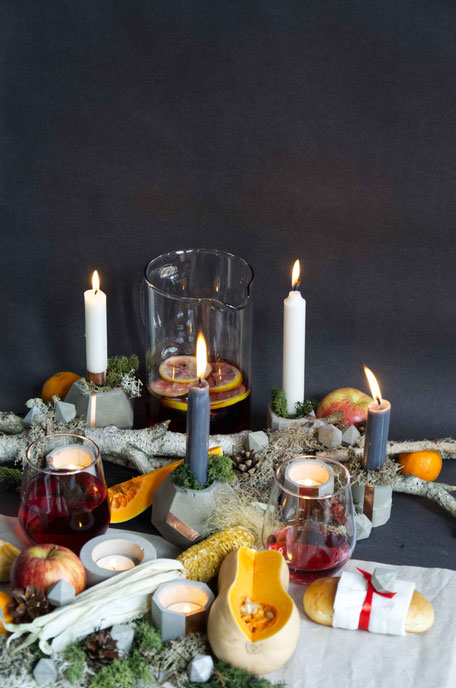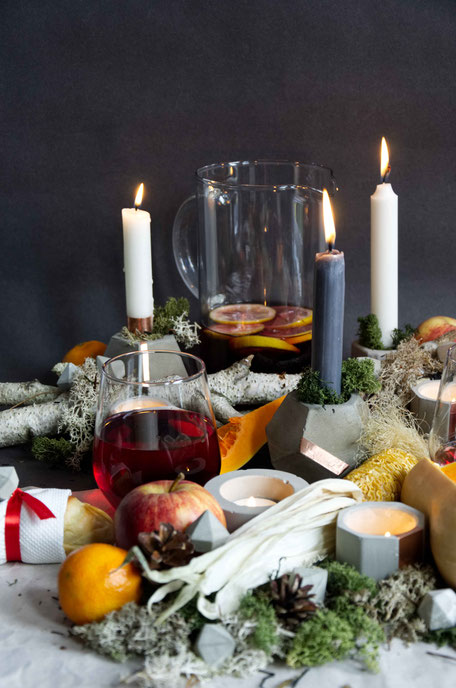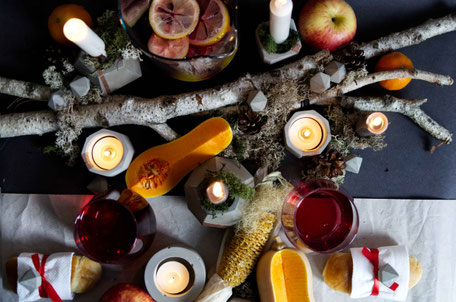 I used a light and a dark recycled paper cloth. If you use a wonderful fabric cloth maybe you still want to use a paper runner underneath the table scape to protect the cloth from moss or fruit staines. Furthermore, it could add even more depth to the display. I started by placing the largest pieces first and added a mix of candle holders. A mix of dinner candles gives it some height and elegance while the tea light holders carry that glow all over the display. The dinner candles are set with moss as well. This way Reindeer moss is not just on the base but at the mid level of the display as well. How this is exactly done can you find here. 
The spaces for glasses and the arms are needed to stay clear, if you serve at the table the space for bowls and serving plates too. As the table is pictured it's for buffet or a plated service. But I moved some pieces around so that the decoration is going around the place settings and not just stay in the middle of the table. I think it makes it all the more cozy and inviting. Once this was sorted I added a bit of moss in small clusters and on top of the twigs. From there tangerines, small pine cones and mini concrete diamond ornaments as eye-catcher are being added in a way I found pleasing to the eyes. Instead of the modern diamond ornaments, you could add spices, family ornaments or similar as highlight and talking point. This is basically it, one could add place cards, if you are lucky and your family is big. If you decide to celebrate in a small circle why not do it as I did, take a sweet bread roll, or which ever you fancy, wrap a napkin around it with bit of silk ribbon and an ornament or your chosen highlight on top. 
A wonderful Autumn feast, Herbstfest or Thanksgiving to all of us!
Antje 
---