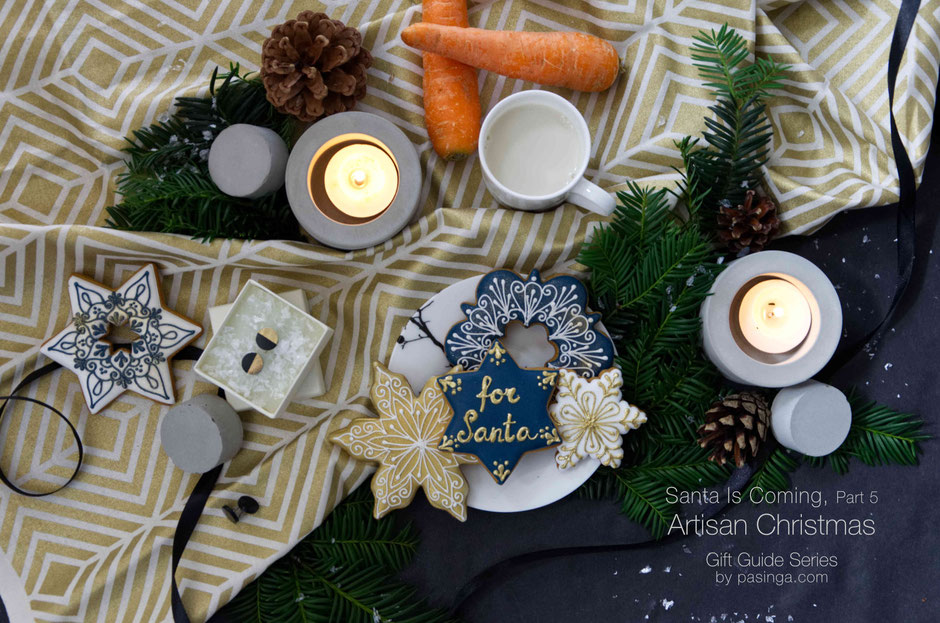 It's November, time is passing by fast and we are already on part 5 of my little artisan Christmas gift guide series. Only some small events are going to happen before the jolly Christmas time, we look for Nicolaus, celebrate 4 Advents or Thanksgiving to name just a few. But it can truly be said now - Santa is coming! 
So lets get the bling on for Santa with modern leather jewellery by Melodie, enjoy it all and light some candles it's that time of the year!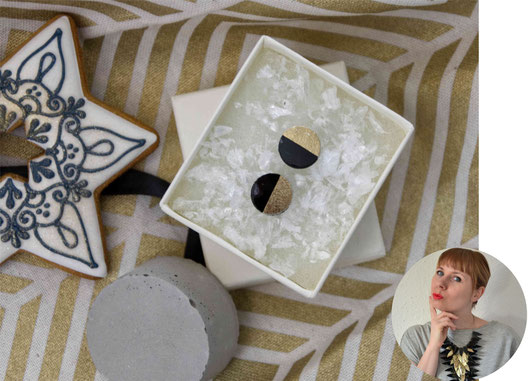 Melodie from SlinkyLinks jewellery. She makes modern and wonderful light to wear jewellery. She found leather as her material and uses reclaimed leather for all her works. She started out and created her brand after working in the footwear industry. She realised the potential of the wasted leather and went for a sustainable approach by using cast-offs. It is one of her daily accomplishments turning discarded quality material into beautiful, colourful and fun pieces. Each piece of leather is unique and has to be cleverly used to show the full potential and beauty. This creative way of working forces her to come up with designs to fit the material at hand. She also love reaching out to fellow leatherworkers, partnering with them to use their discarded bits of leather, constantly bringing novelty to her collections. Always, designing with modern women in mind, creating versatile pieces that they can wear day or night. This as well as the eco-friendly aspect of her creations appreciate her kind customers the most.
Gifts for him & her, fashion lover, from Teenager to Grandma a perfect fit as stocking stuffer or under the Christmas tree
Geometric Stud Earrings £16, Various Necklace Designs from £20; Matching sets from £34
and for more SlinkyLinksJewellery on Etsy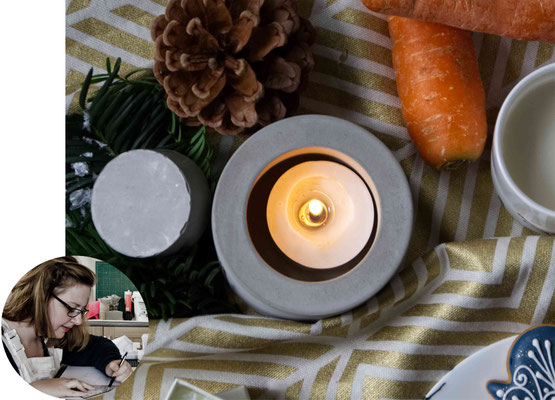 My name is Antje and I'm a London-based artist and creative entrepreneur with a great love for design and making or in other words - a photographer who has moved into concrete sculpting. I focus primarily on monochrome art but often branch out into creating other visuals and versatile objects. You could say this Christmas I even branched out into serious blogging and it has been my true pleasure to introduce these wonderful designer makers to you! 
Gifts for Him & Her, for the homemaker, the design lover, architect or designer
Concrete Cylinder Candle Holder £11.50, Set of 4 £38 ; Cylinder Ornament Set from £ 9.50 and for more my concrete page
If you thought I was early with it all, starting this series in September, I am so with you but if you are a dear friend from the US, Canada, Australia ... the big wide world, you will hopefully have read the stories and designer-maker introductions with a joyful twinkle and appreciate the time and peace of mind when you can order just the perfect gift with time to spare even with international shipping. Anyhow, fear not Christmas is not hear yet and I have more ideas to share and to inspire even more - not just in my last post of this series coming up 5th of December but also with fun do it yourselfs and decor inspiration as well as via my social channels. 
Joyful day,
Antje
---