Greens, stone, wood and copper an unbeatable beautiful combination.
I love how each material ages, on its own or together. The rustic charm and the interesting textures are wonderfully warm, industrial as well as natural and inviting. I am the kind of girl who likes aged copper more than the polished kind but I guess that is just a thing of taste and I won't judge you if you don't judge me. 
Well, I think - all I need now! is the space to make my rustic coppery industrial dreams come true.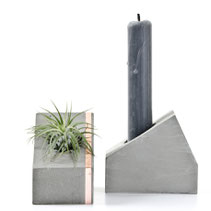 What about you, what is your favourite material or source of inspiration? 
In any case, feel invited to comment below and it's lovely to have you,
Antje xx