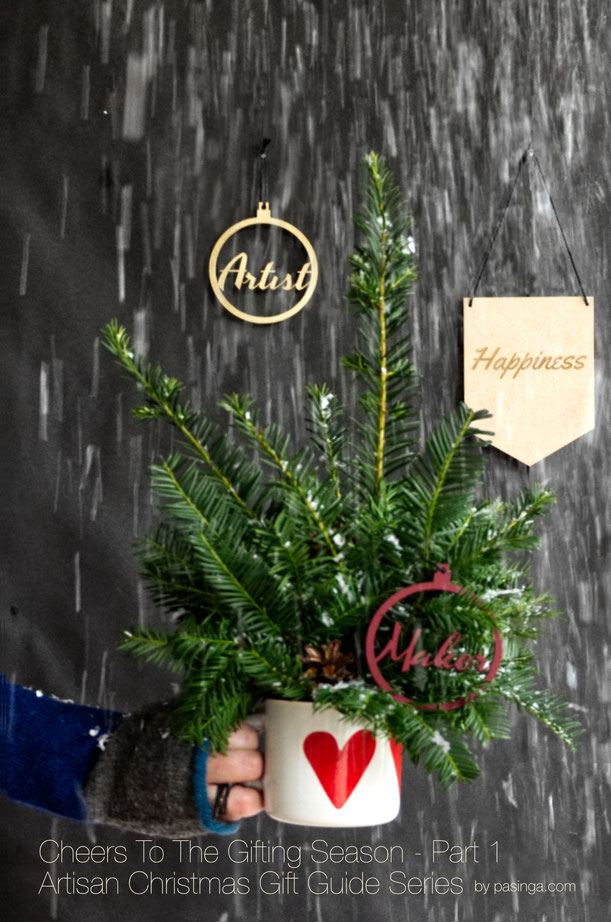 Let it snow, let it snow, let it snow ... the gifting season is coming but let's get in the mood first - over the coming weeks slowly but surely the excitement is starting to grow and even the adult of the totally grown ups is starting to get into the mood that the festivities are around the corner. I promise I wont hit you with just all the 'jingle bells', well not just yet but to share three stories of three wonderful designer-makers with you, who create items you will be able to enjoy before Christmas as well as during and after, so treat yourself to get in the gifting mood, well everyone does it, no? just me? ok, well go on than give it as a thoughtful gift. Personalised, handmade unique and quality work takes time but can give endless happiness!
< Wooden baubles & banner ByPryorArrangement ; Enamel Heart Mug by smaltumfunenamelware; Mittens by ValentinaKarellas; Geometric ring by EniJewellery; styling & photography by PASiNGA
Have a look at Valentinas fashion which is 100% unique and once you know about her ethical sourcing I am sure you would be more than proud to call one of her pieces your own or gift it proudly to a loved one. Or how about the wooden banner with a motivational quote by Willow or - and here comes the Christmas happiness - her personalised baubles [picture above] I am just in awe of those! With all this early Christmas thinking and the thought of all the jolly stressfulness of the upcoming season I think we deserve a proper black or afternoon cuppa - I mean, don't you think?! Yes, I think so too, my workbench as well as desk look pretty complete with a sturdy and fun enamel mug by Bebe! But get to know these wonderful ladies better before you decide to have them make something just for you or the person in mind ....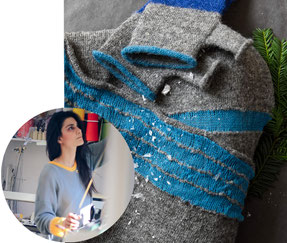 Valentina from Valentina Karellas
has a sustainable approach to urban chic and the antidote to London's fast fashion.
Every piece of her modern and tactile knitwear is one-of-a kind. That's because of the use of surplus yarn from large factories that would otherwise have gone to waste.  She is dedicated to sourcing and handcrafting everything locally in North West London. Her pieces are made to order leaving zero waste in the production. Using a linear approach to the making process, this reduces our carbon footprint as well as focusing on the final garments beauty and quality, making no compromises to the finish. 

A wonderful unique and luxurious fashion gifts for him & her
Mittens £45; Long Scarf £95, for more ValentinaKarellas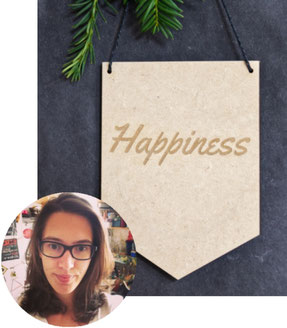 Willow from By Pryor Arrangement started started making things when studying Lighting Design in London.
She began by putting lights in props for theatrical shows, and moved into weddings, decorations and homewares. On the way she built a giant lightbulb for an exhibition in Sydney, wired up the LEDs in Starbug, and laser cut a lot of things for my own wedding - from invitations and favours to cheeseboards and chandeliers. Nowadays she designs and makes things in a little workshop in her home in Maidenhead, UK, which she shares with her Lasercutter, her husband Luke and their two bunny rabbits Charles and George.
Gifts for the typography lover & gifts for the whole family
Wooden Banner £7.50; Personalised Bauble £7.00,
for more ByPryorArrangement on Etsy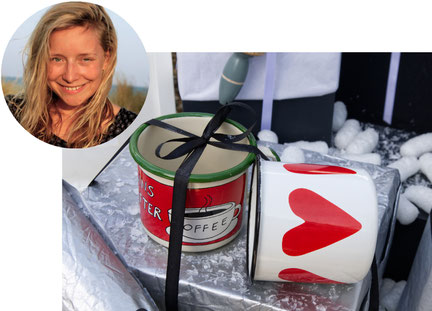 Bebe from Smaltum Fun Enamelware.
Her mum set up her first workshop about 30 years ago! Since then, her work has developed and together they are working and creating fun, colourful and durable enamelware and jewellery. They work from a little workshop on new designs and their customer stories as the following expresses their joy of making.
A photo of a happy girl from France, to whom they sent her lost earring or a panicking father from the USA whose kid lost the mug and is refusing to drink from another! …
What they love the most about enamel is how timeless and resistant it is - it never loses its colour, you can put it in a dishwasher, or take it camping and put it on open fire to cook in. So go on do the ecological thing - use them again and again! 

A mug for everyone & for tea or coffee lovers - Heart Mug £16, 'Life begins after coffee' Mug £16, for more SmaltumFunEnamelware on Etsy    psst - in this shop you could find a little something for your pet as well!
---
Tips for whom these gifts could be perfect for ....
All fashionistas as well as everyone who loves a piece of unique fashion; the wall art collector or someone in love with motivational quotes; every family member should have their own Christmas bauble; mugs like these are perfect for hikers, bikers & campers or everyone crafty; a mug with a quote - nothing can go wrong if given as an office gift ....
---