Bright as summer - a gift wrapping mix of some garden flowers with a mix of different geometric concrete pendants. Maybe just the right way to say thanks!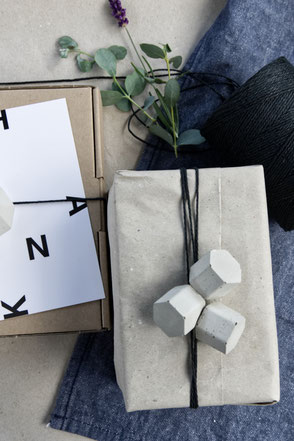 A minimal almost masculine way to wrap presents offers the combination of  recycled grey or brown paper, dark baker twine and hexagon ornaments.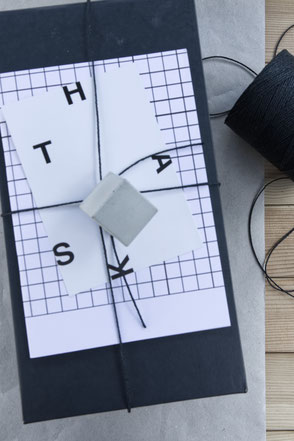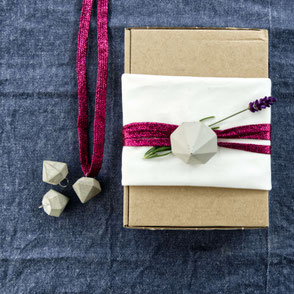 Well, as they say, diamonds are always a good idea! Above I mixed them with some glitter ribbon and white fabric 'napkin' band and on the right, the wrapping is done with a recycled paper stationery, black twine and a small eucalyptus twig.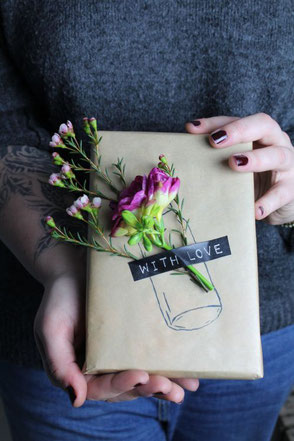 The flower diy gift wrap above is just wonderfully easy, don't you think?! I love how the girls form Noordwind completed the vase with fresh flowers and a love ribbon.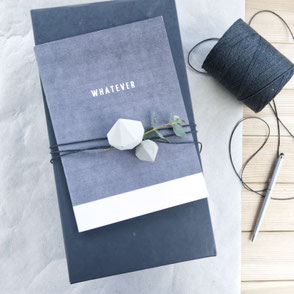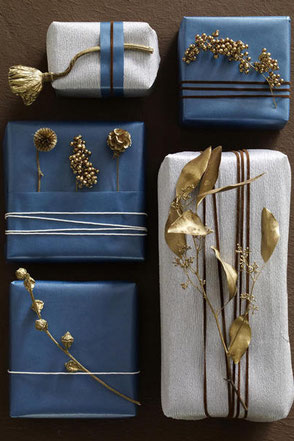 Late summer nights often offer a golden light - so why not use that inspiration in our gift wrapping. Above, the option features gold painted dried flowers [by wunderweib] and the wrapping below uses copper coloured twine but you could also use wires.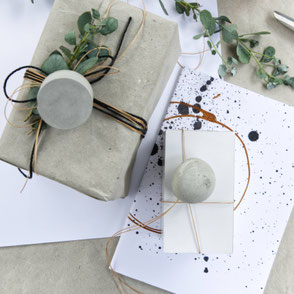 Like me, I am sure, you are always looking for sustainable options as well. And as practicable and easy going grey or brown recycled paper is as my go to option, it is often hard to give it that luxurious glamour. So I set out and found the delightful alternative
of  Furoshiki. Don't ask me how to pronounce it properly but it is an eco-friendly Japanese gift wrapping method. It is more or less founded in the profound need of carrying things from point A to B while wrapping the things to carry in cloths. Anyway, there is no denying it, that wrapping gifts with a fabric cloth makes for an impressive and thoughtful way to present a gift. Below are some instructions by Half Hitched Goods and on the left are some fabric wrapping ideas with the added touch of flowers [first image left by my paradissi] and below the concrete half moon ornament with a bit of lavender.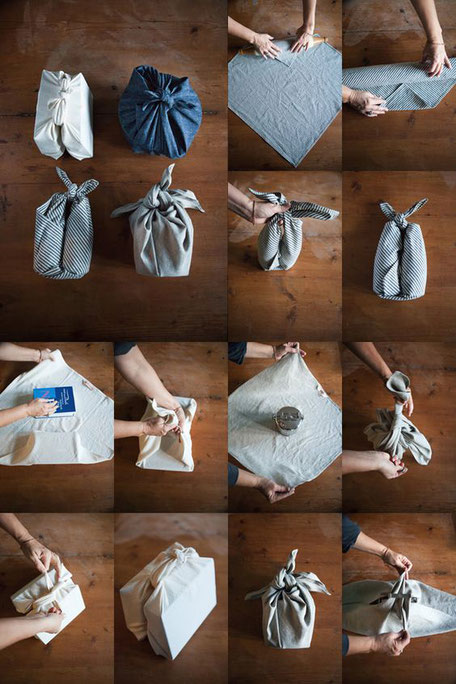 Cheers to happy gifting!
Antje
Please note - not all images in this post are my own, therefore please click the image to be directed to the source. Often you will find even more inspiration. Thank you!
---