New shapes, new sizes and the choice between generously sized silver or gold coloured wire loops for easy hanging options. It was a joy designing the second collection of my concrete ornaments as I had even more decor ideas and uses in mind. Not to forget your kind feedback!
---
Let's get started on working with them! 
I know the diamond shape is a classic and your favourite so far, well - mine too. I adjusted the design to make them sturdier and even easier to work with. I used the set of 3 concrete diamonds with gold coloured loops for this quick and easy wreath design.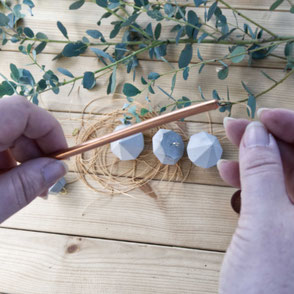 First we take the copper and thread it with a long piece of string. At the end of this step you should have about 30 to 50cm of string on both ends of the copper coil / rod. The length should depend on you plan on how / where you want to display it.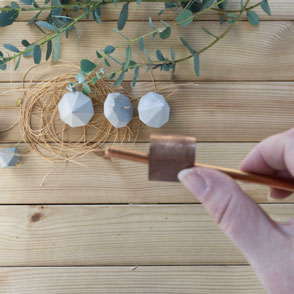 Now you need to thread the larger copper 'ring' with the nylon string and copper coil.  
Tip >  You should add all the items you might want to add additionally to the copper 'ring' directly to rot before you knot the string endings together.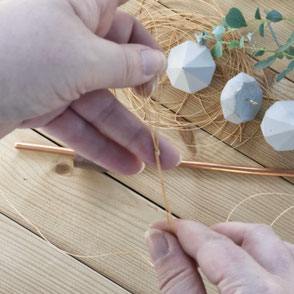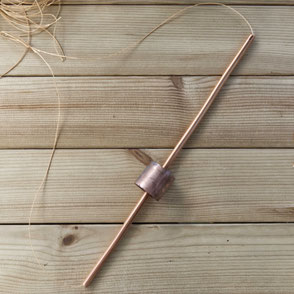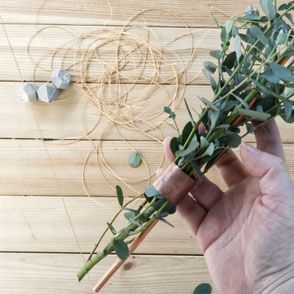 Knot the thread endings together. I made a knot that creates an extra loop above the knot for strength.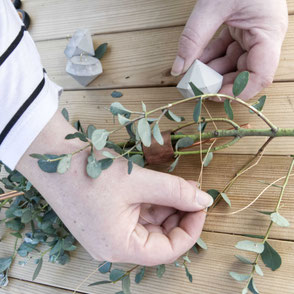 I pulled a couple of smaller twigs out of the ring to have the option of bending them in different ways and started to simply hang the concrete diamonds. 
Success - the finished copper base for this simple wreath design. Let's move on to decorating it!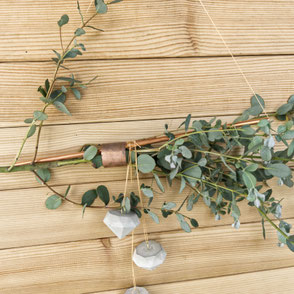 Make sure you knot the concrete diamond ornaments over the rod and your greenery close to the copper 'ring'. I preferred to hang them in three different lengths but made sure the longest one is not outside the compact bit of the branch. 
Take your greenery, this could be anything you fancy - from paper flowers to dried flowers, from sticks to preserved leaves. I used a preserved eucalyptus branch and pushed it through the larger copper ring.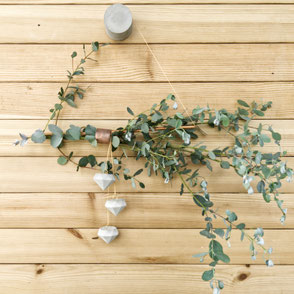 Once satisfied you push the copper 'ring' over the string endings to avoid displaying them and for a nice clean look. Ta-dah - Well done!
I hope this DiY is an inspiration to you and of course, I would love to see your wreath designs!
Happy creating,
Antje 
---