Since I visited some of his buildings in and around Chicago a couple of years ago I am especially touched by the Robie House in Chicago's Oak Park. It's horizontal emphasis, use of materials and custom design 'from tip to toe' make it something very special. The main space is one open plan living area which was revolutionary at the time and Wright applied his previously established principle of using screens. Rather than creating a space as a box with walls all partitions are architectural features like the large fire place in the centre of the space. This way Wright achieved the "destruction of the box" and noted "now architecture could be free".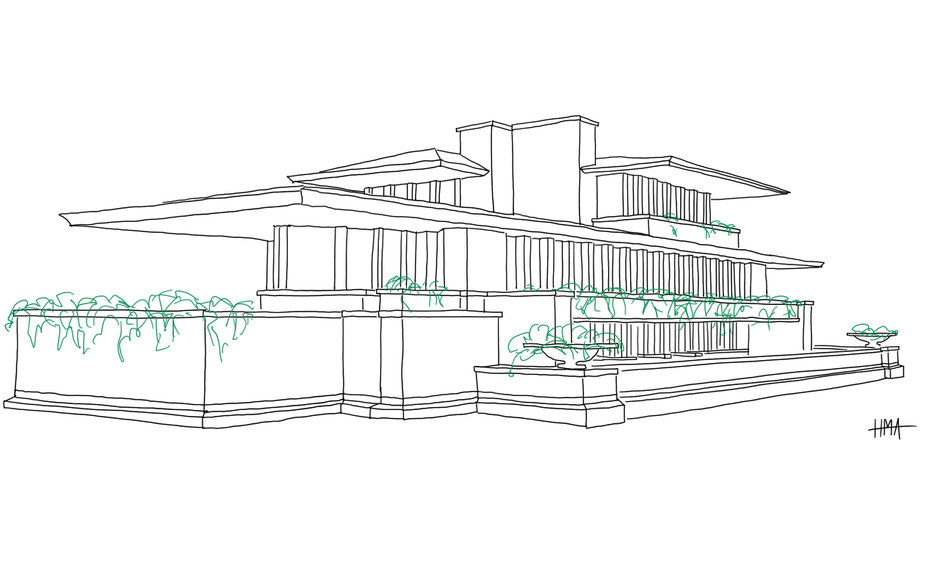 Wright designed numerous houses over his lifetime, first responsible for all residential commissions at Adler and Sullivan and from 1893 with his own firm. All of them applied or developed in one way or the other the above principles and were designed with the Midwest prairie around Chicago in mind. Influenced by his early childhood years which he spent working on his uncles farm in southwestern Wisconsin Wright developed a deep love and respect for nature. In his opinion all buildings should be connected to the earth and grow out of the ground using gently sloped roofs and horizontal planes. This also felt most appropriate for the beautiful landscape surrounding the buildings while his designs raised the ground floor level slightly to improve the view out into the prairie.
A little insight into the thinking of the big master...
See you soon for part two!
Inspirational day,
Heidi

---
Hello - my name is Heidi Mergl, I am a London based Architect and I am a guest blogger for pasinga.com. Antje and I go way back and we share my interest for modern design and architecture. We often feel inspired by the same things and we hope to inspire you too. 
---