We are happy to present the first Concrete Light featuring a luxurious
Chocolate Macaroons scent | No12.
It took about 5 months after Tatiana from Ville De Fleurs and I met at a Etsy Christmas in July event. Funny enough the theme was already Christmas at that time. I was smitten by the delightful magic scents she creates, not just for Christmas but for all year around.
The only thing left to do - collaborate!
We decided to let the art of candle making meet concrete art.

It all started with sketches to design the vessel. Our goal was to keep it minimal and to allow the concrete to show its beautiful imperfect character. The warm light of the candle is represented at any time by the real copper stripe on the truncated corner.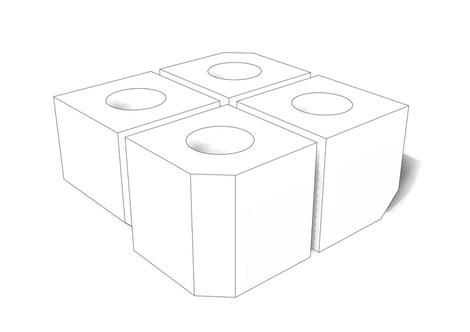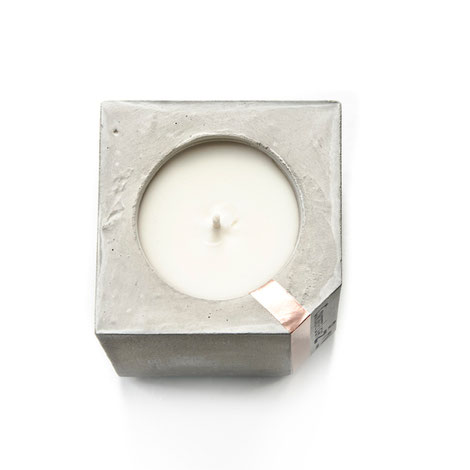 From the drawing board I went on to build the first mould and the first two cube were poured. After about 5 days the cubes were ready for sanding, the recess was cleaned and then printing took place. My last step to complete the cubes was to attach the copper and clear rubber feet.
They were now ready for shipping to Tatiana.

She gave the cubes a proper hard time by burning about 5 different scent combinations in one and the same cube. Did you know concrete has a strong smell on its own? Well, I didn't and Tatiana found a way to make it smell like wonderful heartwarming chocolate. After all the testing the cubes needed to be checked for major cracks or other things which could create an issue and it was a great relieve for both of us that after 4 months designing, working and pouring as well as testing it was all right.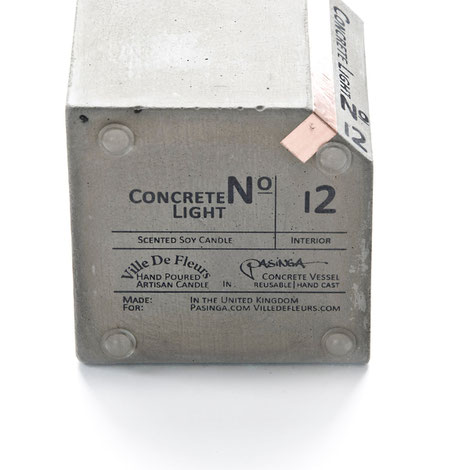 Some facts:

Approx. size: H8.7 x W8.7 x D8.7cm; round recess: top diameter 6cm, depth min 7cm. Weight 1.5kg
Colour: pale grey concrete, optional with copper attached to the truncated corner.
Made from: concrete and copper; candle is made from eco soya and a linen cotton wick.
Light: Burning time approx 20 hours.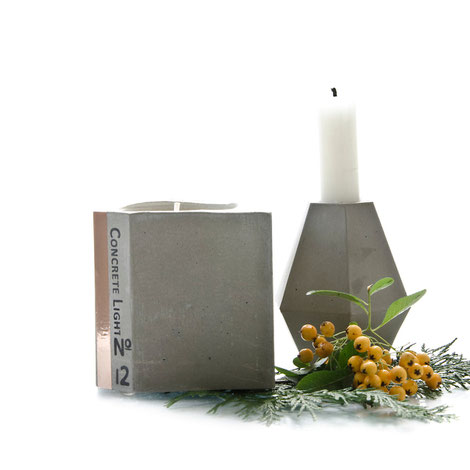 It was important to us...

Reusable: Once the candle is burned down you can use it as planter, vase or candle holder. Create a sophisticated clean display but please feel invited to go crazy from time to time by mixing it up or even by creating a vertical garden. Each planter is more than just a cube, it's truncated corner welcomes decorations and creates an intriguing twist. 
Eco: Ville de Fleurs' soy candles are made from 100% compostable plant material in small batches. They are non-toxic, bio-degradable and environmentally friendly and, as soy candle wax residue can be removed with hot soapy water.
Features: Unique textures (voids and cracks) and colour character due to the nature of the material.


Finish: Smooth concrete not painted or waxed, copper attached and printed as pictured; clear rubber feet attached.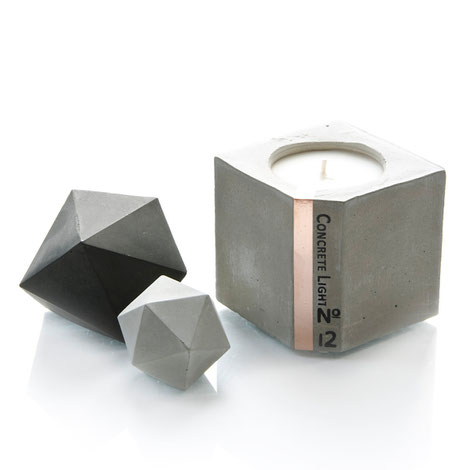 The process now takes about 12 steps to complete one Concrete Light and we decided this is the number for our first candle together.
We hope you will enjoy this delightful handmade minimalist candle as much as we do all year around.
Sit back, relax and enjoy a sin with zero calories!


Tatiana and Antje
Ville De Fleurs + PASiNGA