Let's get ready for the real Advent Calendar 2015!
I found so many wonderful DiY Calendars online that it was hard to choose as all are having their own magic twist. So here is my selection for you!
<<< On the left a classic vintage style canvas calendar. If you click the image you will find a step by step guide, including the free printables!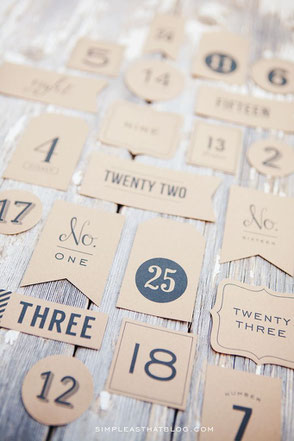 > > > > > > > > > > Fancy different tags or do you have larger gifts to wrap? These should be industrial trendy typography vintage perfect.

Or how about those two below! Aren't they stunning and I can't believe that they are so easy to recreate. I am working a lot with copper right now so I will be following the instructions by Heather and use all my copper tube left overs. Yay!

A big hearty thank you to these lovely bloggers for their take on Advent Calendars and the inspiration. I hope you found something that is right for you too in this collection or when you follow the links. Enjoy creating and a fantastic start into the Christmas season! 
Antje
xx